Cape Town – Twitter has reportedly taken action against former president Jacob Zuma's daughter, Duduzile Zuma-Sambudla for allegedly sharing video clips of the recent unrest in Gauteng and KwaZulu-Natal (KZN) on the social media platform.
Duduzile shared clips of the violent protests and looting on her account.
According to Times Live, Twitter users who reported her for sharing the clips received notification from the app, confirming she had violated the app's rules.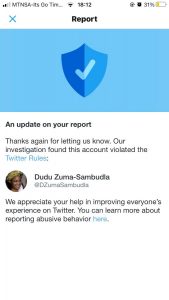 The videos and images she shared were taken in different areas in KZN before the unrest spread to Gauteng, the report said.
Despite being criticised by some of her followers, Duduzile continued to post the clips
Twitter flagged one of the images she shared on July 9.
"This media is presented out of context," said Twitter, as the original image was from 2020, according to Africa Check and BBC News Africa.
Duduzile's Twitter account remains active but she has not commented on the matter.
Brielfy said she could face a number of charges relating to her role in the violence that broke out in the two provinces.
Following Zuma's jailing last month for contempt of court, South Africa plunged into chaos, with looting and rioting erupting in his home region of KwaZulu-Natal before spreading to Johannesburg.
---
ALSO READ | Jacob Zuma's daughter takes a swipe at supermodel Naomi Campbell
---
More than 300 people were killed, according to authorities, while the total bill could reach 50 billion rand ($3.4 billion), according to consultancy Intellidex.
The unrest was widely seen as at least partially in response to Zuma's imprisonment.
The 79-year-old faces 16 charges of fraud, graft and racketeering related to the 1999 purchase of fighter jets, patrol boats and equipment from five European arms firms when he was deputy president.
He is accused of taking bribes from one of the firms, French defence giant Thales, which has been charged with corruption and money laundering.
Both Zuma and Thales have entered pleas of not guilty.
Follow African Insider on Facebook, Twitter and Instagram
Picture: Getty Images 
For more African news, visit Africaninsider.com 
Additional reporting by AFP