Kwazulu-Natal – A 24-year-old man was allegedly stabbed during a home invasion in Canelands, KZN early on Sunday morning.
According to Reaction Unit South Africa (RUSA), the security company was called to a residence on Vincent Dickenson Road for assistance.
"On arrival, Reaction Officers located a man in his bedroom. He sustained stab wounds to his right shoulder and chest," RUSA said.
It further reported that four suspects were involved in the incident.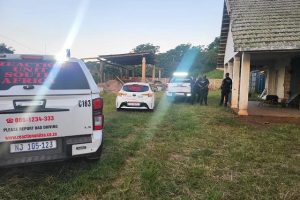 "According to the victim, four suspects forced their way into his residence at approximately 03:30 this morning.
"The robbers stabbed him but fled empty handed."
The man allegedly contacted Emergency Services but received no assistance.
"His friends heard of the incident this afternoon and discovered the injured male in his bed during a wellness check," RUSA said.
According to the security company, officers inspected the property and found no signs of forced entry.
Follow African Insider on Facebook, Twitter and Instagram
Picture: Facebook/ Reaction Unit South Africa
For more African news, visit Africaninsider.com 
Compiled by Junaid Benjamin