Cape Town – Reality TV star and singer, Londi London has confirmed that she broke up with her husband, businessman Hlubi Nkosi.
The Real Housewives of Durban star confirmed the news on her Instagram Stories on Wednesday.
She was addressing her fans who were providing her with information about her ex.
"Thanks for the information in the DMs. We are no longer together. He is free to date whoever he wants," she wrote.
Londie London confirms that she's no longer in a relationship #RHODurban pic.twitter.com/dip9iM1vB5

— fanpage (@RhoAfrica) October 19, 2022
The allegations of Nkosi's cheating that made headlines and spread across social media may be the reason behind the breakup, reported IOL.
The report said that controversial celebrity gossip blogger, Musa Khawula revealed that Londie had moved out of the home she shared with her fiancé after Nkosi allegedly made another woman pregnant.
The luxury vehicle she was seen driving had been given to another woman, the report said.
When the two made their split official remained unclear, however, it seemed as though Londie was not completely miserable about the breakup, judging by her social media interactions.
"I don't know who needs to hear this, but you made the right decision. He wasn't going to change," said a picture Londie shared on her Instagram story.
"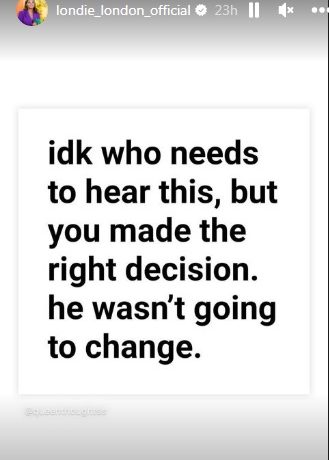 Follow African Insider on Facebook, Twitter, Instagram
Picture: Twitter/ @vinchenzombale
Compiled by Olwethu Mpeshe