Cape Town – "Success is not final; failure is not fatal – it is the courage to continue that counts!" These are the words of the great Winston Churchill, a man who understood that failure was part of life.
Living similar to these words is South African businessman, Sammy Mhaule, who understands that failure is simply an opportunity to begin again.
Mhaule, who is the founder of Kicks sportswear, started his entrepreneurial journey at the early age of 14. During that time, he was selling ice cream in the neighborhood of Tembisa.
He later attended a technical college at Ekuruleni West where he studied motor mechanism.
At the age of 19, Mhaule was already employed by one of the biggest German car-manufacturing companies (BMW). He worked there for at least 2 years before realising that the motor mechanism sector wasn't for him.
Dream of becoming an entrepreneur
He quit to pursue his dream of becoming an entrepreneur. But first, he had to get a qualification in marketing and business at Pearson Institute of Higher Education in Midrand.
After completing his studies at Pearson Institute, and still trying to find his feet, he went to the United Kingdom (UK) where he worked for a property company.
He later decided to quit and became an independent property agent.
He managed to acquire nine properties in the UK and invested one in South Africa.
However, in 2008/9 things went south, as the UK experienced recess.
The situation forced Mhaule to sell all of his properties in the UK and came back to South Africa with nothing.
"It was not an easy process," he told African Insider.
The birth of Kicks sportswear
Mhaule said that like many South Africans, he was faced with many challenges, including poverty.
He eventually saw a gap in the manufacturing market, and in 2014, he started his own drink, SkyRule Drinks.
View this post on Instagram
He sold the drink in shops like Checkers and Shoprite.
However, he got bothered by the fact that in all of his endeavours, he never dealt with black-owned businesses. It was at this point that he then saw a gap in the black business ownership market and the idea of Kicks sportswear came to his mind.
In 2018, Mhaule established Kicks sportswear. However, because of product development and other processes that needed to take place before everything could be finalised, it took long to bring the brand to life.
In 2020, Covid happened and many businesses had to come to a halt, but not for Mhaule.
The pandemic was, in actual fact, a blessing in disguise for him, as he and his team got a chance to accelerate the product.
The same year, he launched the brand at the Mall of Africa in Johannesburg.
Since then, the brand has been flourishing.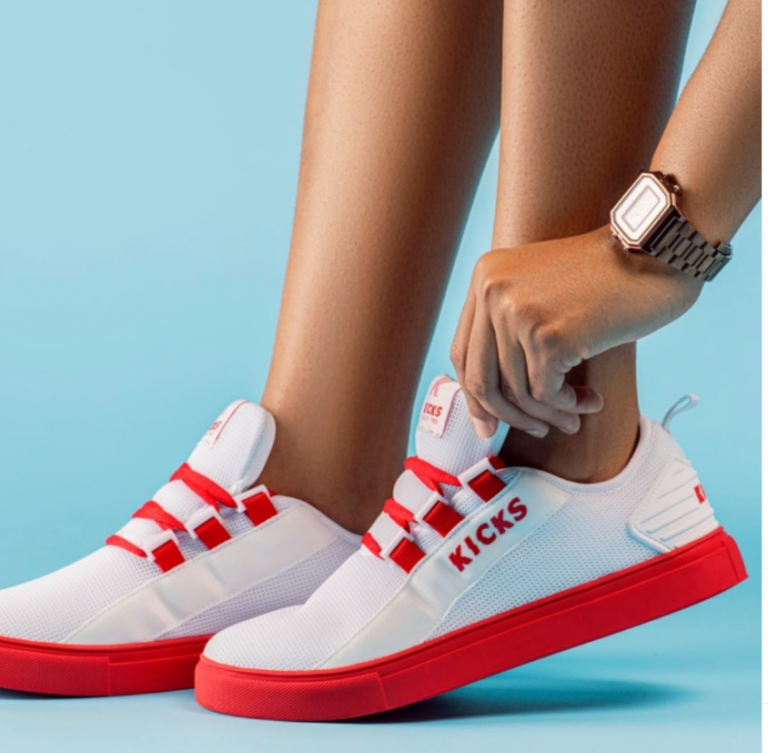 Recently, he signed a mega-million deal with South African musician Makhadzi to develop a Mokokovha sneaker line.
Mhaule said that the deal was made possible because of the "values Makhadzi has".
The deal came to fruition after three months and "is set to lay a foundation for a long-term partnership".
"We had been in conversation with Makhadzi for some time. It all started when I was in Polokwane and we were talking about what she believed in, and her passion to inspire young girls. She also spoke about her dream to one day see young girls wearing her products."
"It was an obvious thing for me to start tapping into it… and looking at it deeper. I was struck by her personal values and what she believed in."
That was how the Kokovha brand came to life.
View this post on Instagram
As a person who comes from humble beginnings, Mhaule believes in "responsibility", and this is the reason why he decided to create the #1000JOBCREATION initiative within his brand.
Every year he takes 10 people into a 12-month contract and gives them training and mentorship about entrepreneurship, while earning a stipend.
In 2025, he hopes to have provided employment opportunities to at least 1 000 South Africans.
Interesting facts about Sammy
Mhaule revealed that he doesn't really have a hobby.
He believes that most black people spend too much time on entertainment rather than focusing on making impactful change.
On Fridays, the entrepreneur holds his meetings outside the office.
View this post on Instagram
He said in 2019 he received a call from GQ and was surprised when he was told that he had won an award for being the best-dressed entrepreneur. This didn't make sense to him, as he is always in black outfits.
"I'm not a fashion influencer… I'm a businessman, and people should focus on that and nothing else," he said.
He, however, said although he appreciated every award given to him, "the awards must at least symbolise something meaningful" to him as an entrepreneur and game-changer.
And his message to young upcoming and inspiring entrepreneurs?
"We are all capable of dreaming and chasing our dreams. Young people need to understand that they only need to start. They should also not forget where they are and why they are doing something. We live in a borrowed time."
Follow African Insider on Facebook, Twitter and Instagram
Picture: Instagram/@sammymhaule
For more African news, visit Africaninsider.com 
Written by Sinothando Siyolo