Johannesburg – "I have learnt that in life you don't lose when you fall down, you lose when you don't get up." These are the words of Motseki Lennox Mabuya, a motivational speaker, radio personality, and entrepreneur.
The 36-year-old born in Qwa-Qwa, Free State, is a founder of Motseki Mabuya Foundation, an organisation that deals with youth development.
"We established the Foundation in 2008 as a vehicle of giving back to the society on behalf of my radio programmes. The foundation is also a tool for youth development. We strive to become a beacon of hope in all our work by exceeding all expectations and reaching new frontiers. The Foundation's core function is motivational talks," he said.
Mabuya, a second-born child from a family of four, is also a Chief Executive Officer (CEO) of Hope FM.
His journey to the top seat has been a work in progress. While working behind the microphone as a radio host, he persevered and managed to climb the ladder, ending up at the helm of the station.
'I'm inspired by my humble beginnings' 
"It was not an easy ride and the journey continues. The decision to sustain the business relies up on my shoulders. Nobody did it but God," he admits.
Raised by his grandmother until matric, the only thing he knew was that he was going to be a soccer star. In 2003, he underwent trials at Jomo Cosmos youth development side but things didn't work out for him, and radio became his second love.
"I love radio and I believe in its power to influence, thus, I'm in the Business of Radio. I'm inspired by my humble beginnings.
"My mother passed on when I was 13-years-old and my grandmother had to take care of me.
"After completing my matric, there was no money at home to assist me to further my studies at tertiary level. That became a very defining moment in my life, I was only armed with my ID and matric certificate but after serious thought, I decided to pursue a career in radio," he said.
Mabuya launched his career at Tembisa FM, before joining Vaal-based community radio, Thetha FM and later campus station VuT FM, ultimately ending up at Hope FM where he is now the CEO of the station.
He also hosts a breakfast show during the week.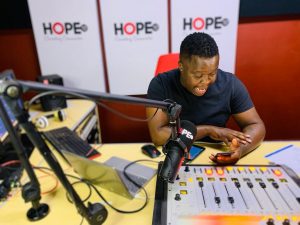 In 2012, he won the Bright Stars Club Award at the MTN Radio Awards which were presented at a gala banquet at the Sandton Convention Centre.
Congratulations to Motseki Mabuya from Thetha FM for being a winner in the bright stars club.

— @SARadioAwards (@SARadioAwards) April 14, 2012
The MTN Radio Awards aim to promote excellence in radio.
When he is not on radio, Motseki visits schools, churches, youth centres and prisons to deliver inspirational talks.
"We need to empower each other. But we can't do it if we don't have a platform.
"We are the generation that are destined to lead now, not in the future. Our time is now. When is the future? No one knows that. We need to act and lead this country now," said Mabuya.
Follow African Insider on Facebook, Twitter and Instagram
Pictures: Supplied
For more African news, visit Africaninsider.com 
Compiled by Reginald Nhlapo