Cape Town – Meet Maggie Moila is an entrepreneur and businesswoman working in the mining industry. She runs her own business called Fundza Training Institute, which is focused on workman training for mining equipment.
Moila spoke to African Insider about her business, how she got into the industry, and some of the challenges she faced, as she toiled to get where she is today.
What was your childhood like?
I am a young black woman from Ga-Mokopane in Limpopo. I was raised by both parents. My mother was a businesswoman and my father worked for the government. Unfortunately, I lost both my parents at a very young age, however, that didn't demotivate me to achieve my goals. For me, it was the push that stimulated me to be more independent.
Tell us about your academic history.
I attended Wendywood high school. After matriculating, I proceeded to study BCOM Marketing at UNISA. I'm currently obtaining a qualification with the Chartered Secretary of South Africa (CSSA). Shortly after I started Fundza Training Institute, I expanded my accreditations to Lifting Machines, Earth Moving Machinery as well as first aid just to name a few.
How did you get into the mining industry?
While I was a debt counsellor, I realised that I wanted to start my own business. I started a business called "Fundza Financial Wellbeing" (Fundza Finwell). A few years into starting Fundza Finwell, I had an epiphany of a different business altogether. I noticed most people in our community, especially youth, were unemployed due to a lack of skills.
That enabled me and my company to penetrate because we saw a gap in the workman training space in Mokopane and this encouraged me to change the name of the company to "Fundza Training Institute".
When did you first get the idea to start Fundza Training Institute?
Through the training that I conducted with the mines while I was a debt counsellor, and due to the high rate of youth unemployment, I wanted to bring about change and make the people of Mokopane and surrounding areas more employable by providing them with skills and training.
Things in the mining industry took a backseat due to Cover-19 and many mining budgets were strained because of lockdown. During this time, learnerships, Internships, further education and training, as well as community development, were put on hold. This caused major setbacks, as the existing skills shortage grew further, and made it difficult to bring training initiatives and career developments back to communities such as Mokopane.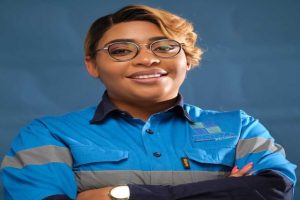 What work does Fundza Training Institute do and how does it help people?
Fundza focuses more on workman training for mining equipment, in the hopes of combating the plight of unemployed young people in our marginalised communities.
We aim to make the young people in marginalised areas more employable, as they have less opportunities than their urban counterparts. We aim to give them an opportunity not only to grow themselves but to grow and empower the communities they originate from.
We believe that charity begins at home. In the past, we had been conducting our training at mines, with the appropriate facilities. We now want to handle all training at our training facility in Mokopane, which will be the first of many to come.
What are some of the challenges you faced when you first started in the industry?
Being a black woman in any industry will pose many challenges. I quickly realised that I would have to work harder than the men in the industry if I wanted the same level of respect as them. People often look at the mining industry as one of the hardest industries to break into, which is partially true, but the same can be said for any industry you wish to enter. Many entrepreneurs want to see instant results when starting a business which will never be the case.
Follow African Insider on Facebook, Twitter and Instagram
Picture: Supplied
For more African news, visit Africaninsider.com 
Written by Matthew Petersen