Established on the outskirts of Pretoria, South Africa, as far back as 1892, PPC has evolved into a proudly home-grown brand synonymous with quality cement products and solutions. Over the course of its 130-year history, PPC has recognised that it's not only their highly successful product offering that has resulted in PPC's longevity – the success of the journey is people, which the company considers its primary strength.
'Our purpose of empowering people to experience a better quality of life is at the core of what we do,' according to PPC. 'And as such, partnering with customers and communities has contributed to our 130-year legacy.'
Of course, there are other factors at play in remaining a top brand in an increasingly competitive industry. Consistent, quality products, supported by exemplary customer service have helped make PPC a household name. Beyond the top-class technical support, which also assists clients in improving cost efficiencies when using its products, it is innovation that sets PPC ahead of the pack. As an example, Provind – PPC's application-based, fit-for-purpose range – caters to the needs of all consumers – be it homeowners undertaking DIY projects or industry professionals, who require more advanced products that demand early-strength or other technical characteristics.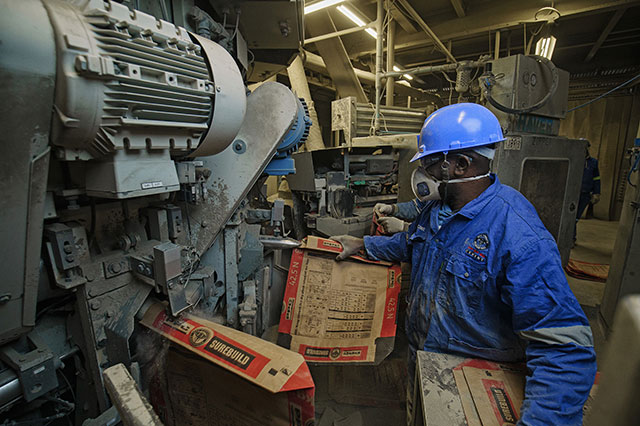 As a proudly South African company, and one that is dedicated to providing its customers with optimal products for their individual needs, PPC also introduced a first-of-its-kind within the cement industry in the form of PPC SureRewards – a loyalty programme that rewards consumers with cash back when buying a bag of cement.
PPC has a proud legacy of a diverse portfolio comprising product solutions for all building and construction needs – yet another characteristic that makes the company unique. In addition to a vast range of application-based, fit-for-purpose cement products, PPC also offers its customers a range of complimentary products that include concrete, cement, aggregates, fly ash and, more recently, the ultra-convenient Premix range. Underpinning all PPC products is the backing of the company's technical specialists, who are always available to assist end-users with using the products – regardless of the magnitude of the job being undertaken.
Needless to say, with a history that far surpasses a century, PPC has garnered invaluable industry insight. The construction materials giant is cognisant that customer needs must always come first, and that it is crucial to 'understand the needs of the customer in order to provide them with the right product and solution'.
PPC considers its customers, communities, suppliers and other stakeholders as business partners. 'By being dynamic and responsive, we can strengthen our relationships with our communities and invest in meaningful initiatives that advance customer excellence and supplier experience,' according to the company. 'Being a responsible corporate citizen is part of our DNA.'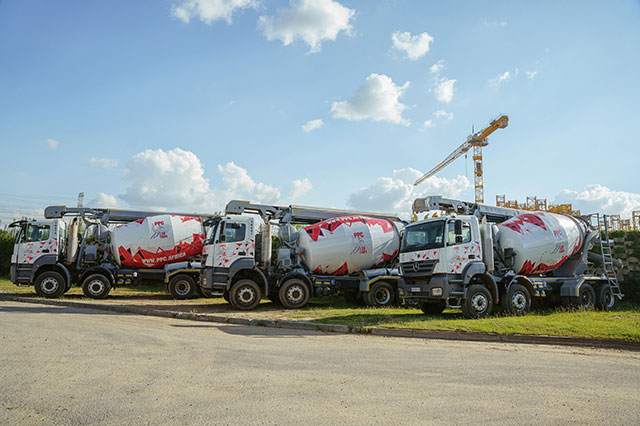 The company likens its strength as a company to that of South Africa's. 'We have been through many eras of our country, and contributed to the development and building of our country over the past 130 years,' it states. 'As the market and industry continue to be challenged, due in part to an influx of imports, it is important that we continue to build our brand in the communities in which we operate.'
PPC continues to build and support communities through various social and enterprise development initiatives. After all, as the company points out, 'our customers' and South Africa's success is our success'.
In recognition of its proud legacy, PPC is commemorating its impressive milestone with various activities, among which is a promotion, whereby consumers are being given the opportunity to win R10 000 daily – in addition to other spot prizes – for 130 days, through a competition that will run until 27 June 2022. To enter, customers must buy at least 10 bags from any of the PPC SureRange cement products in stores. Other celebratory initiatives are also in the pipeline. PPC is planning campaigns that will see it 'giving back to Mzansi for the remainder of the year, as we celebrate and say thank you to South Africa for their support over the past 130 years'.
Celebrations aside, PPC has no intentions of resting on its laurels – indeed, it is looking to the future. 'Firstly, we would like to ensure that we continue to build a sustainable business that will see another 130 years, and it is only through innovation and being relevant that we will achieve this,' according to PPC, adding that as a responsible corporate citizen, it will continue to look for innovative ways of doing business.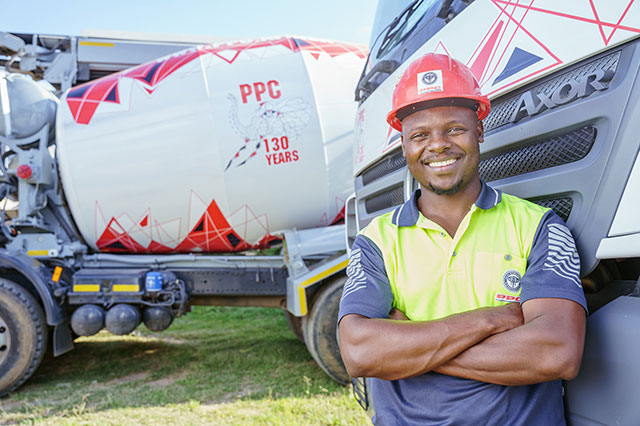 Continuous improvement is part of its overall strategy, as well as product-portfolio diversification. 'Change is the only constant in life and in doing business, so we will remain agile enough to deliver on our promise of empowering people to experience a better quality of life – through products and services, as well as social contributions to South Africa.'
Environmental sustainability is also a key part of its growth plan. 'We have recently launched our decarbonisation strategy, and we are looking at innovative ways to reduce our carbon footprint,' it says. Initiatives such as solar power at PPC plants and using alternative fuels – including tyres and refuse-derived fuels – are just some ways in which the company plans to reach its 2030 carbon targets.
Ultimately, says PPC, 'we will continue to keep the home fires burning, with a strong focus on our Southern African business. Developing and expanding our building materials and solutions portfolio are areas of growth for the business, and this includes new ways of building technology that are more environmentally friendly'.
If the past 130 years serve as a yardstick, the century ahead will no doubt be exciting to watch, as PPC grows from strength to strength. In closing, it says, 'we would like to thank South Africans for their continued support of our home-grown business. These 130 years would not have been possible without their support'.