Cape Town – American superstar, Chris Brown, has acknowledged a young, talented South African girl singing a powerful song with her angelic voice, by putting her on his Instagram story.
"Her voice incredible," Chris captioned the video on his story.
Although the video is not on his story anymore as Instagram stories disappear after 24 hours, the video was recorded and found its way to Twitter.
Chris brown posted Naledi on his IG story ??? pic.twitter.com/Wg268mdG4I

— Mambatha (@KhertyM) October 10, 2022
"It's an awareness song against children abuse, powerful song," one user said when another asked about the song.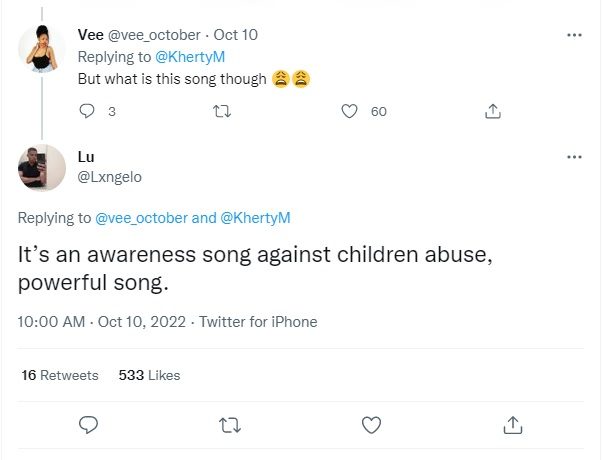 "It'd make a good sound track for a movie or a documentary designed to create awareness to this plight. South African girls are going through a lot," another tweep said.
"Tjoo the message of the song… Its heartbreaking that its someone else's reality," another tweeted.
Big Zulu posted the video of the girl on his Instagram, explaining the meaning of the song to people.
"The song speaks of the major issue we are faced with in South Africa which is women and child abuse," he said.
He also requested South Africans to find the girl so that she could be featured on the song.
"Big Zulu is asking South African's to help find this amazing talent so she can feature on the singer's music video which will be a dedication to women and children during the 16 Days of Activism for no Violence against Women and Children, which is held between the 25th of November to the 10th of December every year. Let's continue our fight against this matter," Big Zulu added.
View this post on Instagram
"The song titled "Ubaba Ulala Nam" is found on Big Zulu's album Ichwane Lenyoka," he concluded.
Follow African Insider on Facebook, Twitter and Instagram
Picture: Picture: Instagram/ @chrisbrownofficial

For more African news, visit Africaninsider.com 
Compiled by Junaid Benjamin