Cape Town – Rikhado "Ricky Rick" Makhado's untimely passing has certainly left an indelible mark to many in the Hip hop, fashion, and music industry.
His absence continues to be felt.
Times Live reports that rapper Da L.E.S' all-time super exclusive all-white themed party that took place during the weekend was fairground for celebrities who used the event to honour the late artist.
Rapper and TV presenter Nomuzi "Moozlie" Mabena took to Instagram on Sunday to share images of the party on her Instagram stories.
"It wasn't the same without you, Summer. One thing for sure though, we all love you so much," she said in her captions.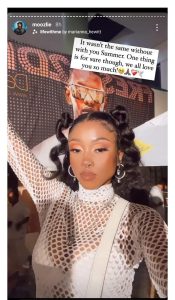 Legends Barber which has franchises all across the different provinces took to Instagram to share images of condolences that Ricky has received from far and wide.
---
ALSO READ: 'The pain I feel is too much to deal with' – Ricky Rick's last words
---
Ricky Rick bought himself the popular franchise together with his wife, Bianca Naaidoo, in 2019.
View this post on Instagram
According to The Citizen, Legends Barber has been awarded as the best barbershop in the African continent and was founded by Sheldon Tatchell.
Ricky Rick was vocal about his struggle with depression and often shared his anxieties on his podcast Lab Live.
"Often, society thinks people who suffer from depression are just going through a phase, or are having a bad day, but depression just doesn't go away overnight by itself, it needs real treatment, medication and the necessary support," SowetanLive quoted the South African Depression And Anxiety Group (SADAG)'s Cassey Chambers, the operations director as saying.
The late rapper's funeral will take place at a private ceremony in Johannesburg on Tuesday, March 1 starting at 10:00 according to the The Citizen
Ricky was announced dead by his family in a statement on Wednesday.
The service will be live-streamed across social media platforms.
Here's some snaps and tribute videos from Legends to Ricky:
View this post on Instagram
View this post on Instagram
View this post on Instagram
View this post on Instagram
View this post on Instagram
View this post on Instagram
Follow African Insider on Facebook, Twitter, and Instagram
Picture: Facebook/Nomuzi Moozlie Mabena
Follow African Insider on Facebook, Twitter, and Instagram
Compiled by Odwa Shumi