Cape Town – Saint Lounge Cape Town has been the subject of some social media discussion after followers claimed that the 3 nights of Akon the Lounge had promoted was false and that Akon was not at the lounge.
"Akon do you know you were booked at Saints in CPT and why didn't you show up, SA needs answers," one person wrote in the comments section of Akon's latest post, satirically trying to get to the bottom of the matter.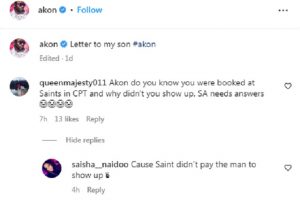 "The Home Of International Superstars Is Bringing You 3 Nights With The World Renowned Artist @akon," Saint Lounge wrote on their Instagram post advertising the presence of Akon.
The Lounge added that Akon would be there on Tuesday, January 3; Wednesday, January 4; and Thursday, January 5.
Read some of the comments made by social media users:
"Missed payment for Table 7 – 'You can put that blame on me'"

"AT THIS POINT CAN YA'LL PLEASE LOOK INTO HOSTING RIHANNA?"

"He was not at Saint last night, so are you scamming us?"

"Massive joke. Dude didn't even show up LMAO."

"Does Akon know he's going to Saint tonight?"

"Is that man coming down to buy eskom or what"
View this post on Instagram
As it turns out, the followers were correct – Akon was in fact not at the lounge during the three-day period in which his presence had been advertised.
Saint Lounge confirmed this in a statement they released, apologising for Akon not showing up.
"We would like to address the artist's no-show at Saint Champagne Bar & Lounge last night: Tuesday 3 January 2023.
"We were approached by representatives of Akon with an opportunity for us to book him.
"After numerous meetings, we agreed on a sum to be paid. We then paid over the amount to the representatives as per our agreement in full and on time.
"We have now noticed that there seems to be an issue that we are still trying to ascertain the facts thereof between the representatives of the Artist and his management which has caused Akon to not honour the booking.
"The situation last night was beyond Saint Champagne Bar & Lounge's control."
View this post on Instagram
Commenters were quick to share their thoughts on the situation.
"No no. A con."

"Will you be posting his picture everyday until he pays back what he owes?"

"Should have booked Temple Boys."

"Let's just all be honest, Akon was never booked. SEND US PROOF OF PAYMENTS."
Follow African Insider on Facebook, Twitter and Instagram
Picture: Instagram/ @saintloungecpt
For more African news, visit Africaninsider.com 
Compiled by Junaid Benjamin