Omnia is an international, diversified, sustainable group of businesses, recognised for leading the change from chemicals to green chemicals, biotech and biomolecular solutions, offering network-created, innovative technologies that protect all life.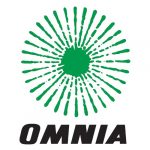 The business' growth strategy is rooted in delivering tailor-made solutions to the markets that it serves across the agriculture, mining and chemicals sectors, according to the unique circumstances and requirements of each market.
Picture: Supplied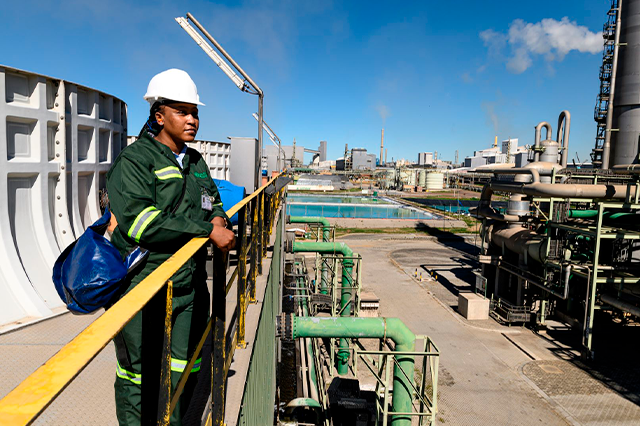 Omnia was recently awarded the 2022 CFI Best Sustainable Diversified Chemicals Group in Africa. 'Omnia's culture of responsible innovation, approach to R&D and solutions-driven legacy continue to strengthen our position,' says Seelan Gobalsamy, Omnia Group CEO. 'We remain relentless in our pursuit to ensure sustainable contributions by consistently leveraging these differentiators. I am proud of the role each of our 4,200 employees plays in driving success for our customers and partners and, equally, enhancing the value delivered to societies and the environment.'
Bolstering soil health
With good soil health a key challenge for every farmer worldwide, Omnia is at the forefront of providing pioneering solutions with wide applicability. Omnia Australia is a leader in the manufacture of K-humate products – a rich, humic-based soil conditioner and biostimulant that positively impacts soil and plant health. Humic acids are naturally derived from the breakdown of plant and microbial matter, which form the foundation of all fertile soils. Humic acids enhance nutrient efficacy and significantly reduce leeching, waste and nitrogen emissions.
K-humate thus has the potential to further improve farmer yields, the quality of produce, profits and business competitiveness by increasing fertilizer efficiency, improving water-holding capacity, bolstering the penetration and retention of calcium in the soil, and enhancing good soil structure and fertility.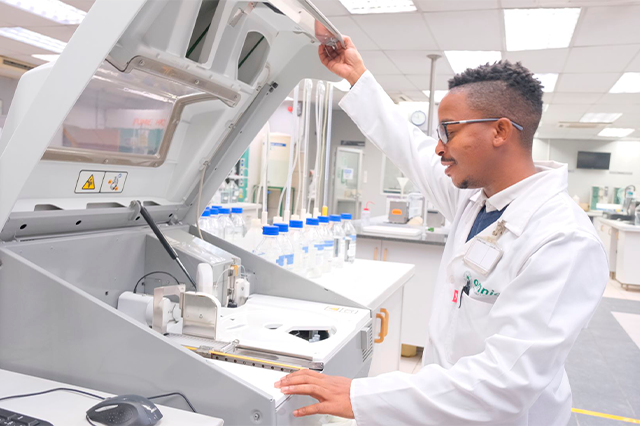 'We continue to expand access to our K-humate products, exporting humic acid coatings to countries with poor soil environments – exacerbated by dry conditions, scarce irrigation sources and old soil – in East Africa the SADC and South America. Our offerings continue to play a major role in bolstering macadamia production in Mozambique, and in the Kenyan avocado, wheat and soybean markets,' says James Freemantle, managing director at Omnia Specialities Australia.
Kenya – soil health a growing area of focus
There has been significant investment and expansion in agriculture in Kenya. Last year, the World Bank approved a $250 million International Development Association credit for a new National Agricultural Value Chain Development Project to increase market participation and value addition for 500,000 small scale farmers in Kenya who are engaged in nine value chains across 26 counties. This investment and resultant expansion of the sector has boosted off-take from Kenya globally, resulting in producers being put under greater scrutiny by international buyers regarding traceability of food and how it is grown.
We have recently seen major European retailers setting up contracts with local suppliers and assessing their on-farm practices relating to environmental, sustainability and governance (ESG) practices. Thus, the issue of soil health is an important one, as natural savannah is transformed into market gardens. Local farmers are also taking the health of their soil seriously and doing more to protect their soil as an asset.
This poses a significant opportunity for Omnia's agribio products that increase fertilizer and water-retention efficiencies and enhance soil structure and fertility.
Zambia – feeding the region
Since Omnia's inception almost 70 years ago, the group has consistently pioneered innovative products, services and technologies that have resulted in impactful customer and societal value. Its agricultural proposition, Omnia Nutriology®, was first to market with its liquid fertilizer range, which has paved the way for precision agriculture as it is known today. Omnia's liquid products, containing accurate ratios of various macronutrients and micronutrients, are customised to address specific crop and grower requirements. The product range enables farmers to allocate input nutrients more efficiently, optimising yields and ultimately financial returns.
Equally notable has been its revolutionary direct application ammonia, launched more than four decades ago. Omnia Nutriology® has established itself as a leading provider of holistic farming advisory services and products, including data-driven soil and crop analysis, climatic trends and water efficiency, tailored nutrient management, and quality products to maximise yields. Omnia's innovative partnering approach ultimately delivers on its purpose of supporting food security in its markets.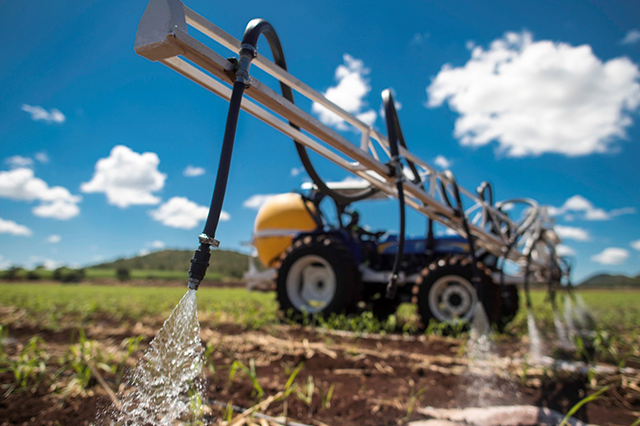 Zambia is a key exporter to the region in markets that experience agricultural deficits, including the DRC, Angola, Malawi and Namibia. Large commercial farmers in the country are financially secure, independent of government subsidies and follow modern farming techniques. While in the earlier stages of the move to greener agricultural inputs, farmers are focused on soil health as an important factor to increase yields. Omnia Nutriology® holistically delivers to the Zambian commercial farmers' requirements.
The benefits of Omnia's advisory approach are also felt in the small-holder, emerging farmer and retail sectors of the market, where advisory services to enhance farming practices are vital for their continued survival and growth. According to Mandla Mpofu, Omnia's Managing Director of SADC markets, 'the government procures and delivers fertilizer to smallholder farmers to support their growth and independence. However, as proven in other parts of the world, a reliance on subsidies can become entrenched, so we are working with them to ensure that these farmers get the required support to grow and become independent over time'.
Zimbabwe – export crops require a sustainable approach
Omnia's focus on niche export crops in Zimbabwe, including tobacco, soya and sugar cane, require traceability and a green approach, which means that the Omnia Nutriology® holistic advisory model, its high-quality products and agribio range are important customer value propositions.
Omnia Nutriology employs 12 core principles that it believes ensure the success and sustainability of all. The Nutriology Solutions Development team constantly strives to develop specialised solutions and products using integrated technology, knowledge and innovative ideas.
These solutions include unique services such as OMNI-PRECISE® and OMNISA P®, which focus on improving water efficiency, nutrient use efficiency, crop quality and yield. OMNIBIO® protects soil health and biodiversity with the use of biotech and biomolecular solutions, microbial products and biostimulants.
Omnia OMNI-PRECISE® applies technology to provide a holistic precision-farming package suited to the specific farm. Available solutions include OMNIZONE™ and OMNIRIS K-IQ™, which use historical yield data either from yield monitors or from satellite imagery to divide the land into management zones. These zones can then be treated according to their production potential to ensure that valuable resources like water and fertilizer are not wasted on marginal soil, but that the right investments are made to ensure yield and quality.
Thanks to satellite imagery and the unique algorithms created and tested by Omnia, a farmer can now continuously monitor the nitrogen levels in their crops, possible moisture deficits, and even impending pest and disease outbreaks. Its team of agriculturists has access to the most advanced environmentally friendly products and provides specific, innovative and responsible agricultural solutions to ensure sustainability while protecting natural resources.
BME, a game-changer in the mining sector
Mining has been an economic mainstay for Southern African economies in recent years, especially over the first disruptive lockdowns of the COVID-19 pandemic; the task is now to build on the momentum that has been created, according to BME, a subsidiary of the Omnia group.
The region's mining activity has shown positive signs as the world economy has rebounded, says BME Managing Director Ralf Hennecke. Sales in minerals such as copper, cobalt, gold, platinum group metals, iron ore and manganese have all benefited countries like South Africa and Zambia. For Botswana, Namibia and Angola, there are also better prospects for commodities such as diamonds, uranium and coal.
'Although the recent Fraser Institute annual survey ranked many Southern African countries poorly in terms of their mining policy, these industries are showing considerable resilience,' according to Hennecke. 'The region is well endowed with mineral deposits and with the skills and experience to exploit them.'
The importance of local knowledge
Hennecke highlights that the region's real value lies in the institutionalised knowledge of the companies that operate here, and their understanding of how to respond constructively to prevailing conditions and emerging trends. Among the recent shifts in policy that will strengthen this foundation is a greater focus on local business participation.
'In our decades of involvement in SADC countries, we have a strong heritage which we are sharing with partners across the region,' he says. 'Our business networks allow us to meet localisation imperatives and to continue transferring skills.'
Moving forward through ESG
Hennecke notes that BME's efforts on this front also support the shared-value and sustainability commitments of responsible mining companies, which have embraced the principles of empowerment now being legislated in many countries. Much of this commitment is expressed in the industry's well-accepted ESG policies.
'Our in-country partnerships also imply investment in local infrastructure and skills transfer, to build capacity in local supply chains,' he says. 'Such capacity is vital for mining companies, especially in fields such as blasting and explosives – where reliable supply is crucial for mining to remain competitive.'
A company like BME, for instance – in aligning with Omnia group policies – prioritises openness, integrity and accountability, he notes. The group's ESG mandate embraces economic, social and environmental relationships through an integrated, sustainable approach that encompasses all stakeholders – including shareholders, customers, employees, suppliers, governments and the communities in which it operates.
Mining driven by innovation
Mining competitiveness in Southern Africa is also being built on ongoing technological innovation – much of it locally developed. The inexorable progress towards smart mining operations is being accelerated by the application of digital technology. In the blasting sector, says Hennecke, this is well demonstrated using blast-planning software, electronic detonators and other digital tools.
The motivation driving this trend includes not only safety, efficiency and productivity, but also the reduction of carbon emissions. Mining companies in the region are, like their global counterparts, acutely aware of environmental regulations and standards, as well as investors' insistence on best practice.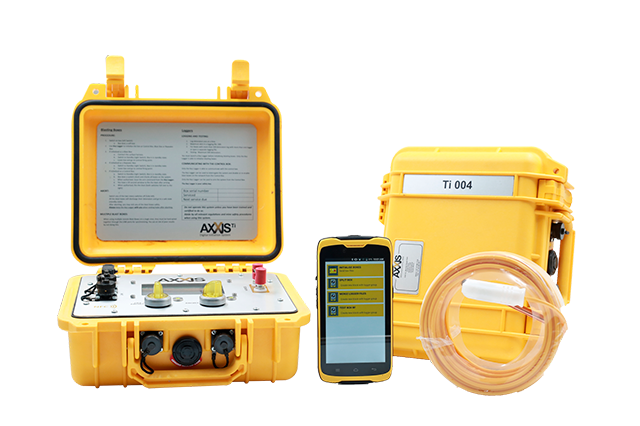 'To meet rising ESG and sustainability standards, mines are constantly fine-tuning the quality of their blasting practice, and improving the productive impact of their blasts,' he says. 'For example, better fragmentation of rock – achieved through quality blasting – optimises the energy used in downstream functions.'
Where power consumption can be saved in energy-intensive activities like loading, hauling, crushing and grinding, mines can cut costs while reducing their carbon footprint. For BME, its world-class emulsion explosives, enhanced by its AXXIS electronic initiation system and Blast Alliance suite of digital solutions, help mines to make this possible.
Learning from data
The digital learning curve is strongly driven by data generation, gathering and analysis. Mines are leveraging real-time information from equipment and processes all over the site for better and quicker decision-making. Hennecke highlights that for this data be intelligible and useful, it must also be integrated into the mine's chosen platforms.
'Suppliers of services, equipment and materials in Southern Africa are fast developing vital expertise in the digital space,' he says. 'This is enabling mines to track, measure and assess the performance of machines and services – ideally through their own dashboard or interface.'
Data security is therefore growing in importance; mines must be confident that all systems are protected from outside interference by malicious sources and, at the same time, that they comply with evolving local regulations governing data protection in each country.
'The days when data management was considered a niche field for technology specialists are over,' says Hennecke. 'Service providers to mines in the region have increasingly ensured that they develop in-house digital expertise that add increasing value to whichever suite of products or services the company delivers.'
Project pipeline challenges
Where Hennecke does have a concern is in the pace of new project development in the region. With potential commodity shortages looming – especially in battery minerals like cobalt, copper, nickel and platinum group metals – there are simply too few greenfield projects in the pipeline to grasp the demand opportunities, he argues.
'With new mines and large expansions taking up to a decade to progress from planning to production, SADC countries could lose out if they are not more proactive in exploration and development,' he says. 'Greenfield projects in particular are scarce, and they could add valuably to meeting the future demand-supply gap.'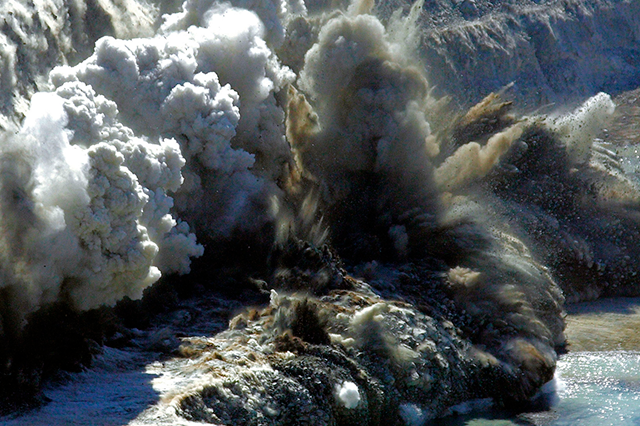 He acknowledges that there might be some uncertainty about which minerals would be most in demand in 10- or 20-years' time but notes that the mining sector would still be expected to respond quickly. In this context, mineral-rich countries such as the DRC and Zambia were not currently seeing the necessary levels of investment.
Pioneering new levels of best practice
While mining countries in the region have had their own decisions to make about how to attract investment into their mineral sectors, it is encouraging to see the constructive steps being taken by the industry to improve its position as an investment target. Certain stereotypes about mining may linger in the public's perception, but the sector has embraced complex ESG challenges proactively, argues Hennecke.
'The industry is also expecting its service providers and suppliers to align with these priorities,' he says. 'This has laid the groundwork for a more constructive relationship with host governments and communities.'
For instance, it has taken seriously the impacts of climate change, and is engaging more effectively with local communities and other stakeholders. In many respects, mining is pioneering new levels of best practice, using the technological resources at its disposal.
'Southern Africa's opportunity is to grow its mining sector along this positive trajectory, allowing mining to release economic value and contribute even more to broader economic growth,' says Hennecke. 'By sharing value up and down its value chain within a sustainable operating model, mining holds great potential for stimulating secondary industries and inclusive growth.'
Protea Chemicals, building a better and more sustainable future
As a leading solutions company, Protea Chemicals offers trusted performance and innovative solutions to contribute to a better and more sustainable world. Protea Chemicals connects its clients not only through a vast, reliable network of quality suppliers but also to industry-specific expertise, innovative thinking and new opportunities. With a pioneering mentality, the company is dedicated to creating significant, value-added solutions for every customer.
For Protea Chemicals, a better future starts with its employees and that is why the company prioritises the safety of all its employees, strives for zero harm and creates a positive impact across all its operations. The company aims to limit its environmental footprint, which means investing in environmentally friendly products, services, solutions and processes. This not only safeguards its future but also positively impacts its customers and suppliers. Protea Chemical's solutions encourage appropriate chemical usage in terms of safety and environmental effect. As a result, Protea Chemicals adheres to the principles of Responsible Care®, an international project overseen by the Chemical & Allied Industries' Association.
Securing access to safe and clean water across Africa
Millions of people across Africa, many in rural areas, do not have access to clean, safe drinking water or adequate sanitation. Water is also a scarce resource, especially in sub-Saharan Africa, where millions of people do not have access to basic drinking water or need to travel great distances to access it. This is why it has become increasingly important to provide solutions that ensure continual cost-effective production of safe drinking water and adequate sanitation to manage this scarce resource.
Through technical skills and specialised products and services, Protea Chemicals provides solutions to ensure the production of clean and safe drinking water and effective sanitation for its customers.
As an organisation, it is aware of the significant impact that water pollution and the lack of clean water can have on all aspects of life including education, a country's economy and agriculture. Protea Chemicals directly impacts over 97 million people per day in Africa through the supply of water treatment solutions to the water boards in South Africa and across the region, including Rwanda, Botswana and Uganda, Mozambique, Namibia and Zambia.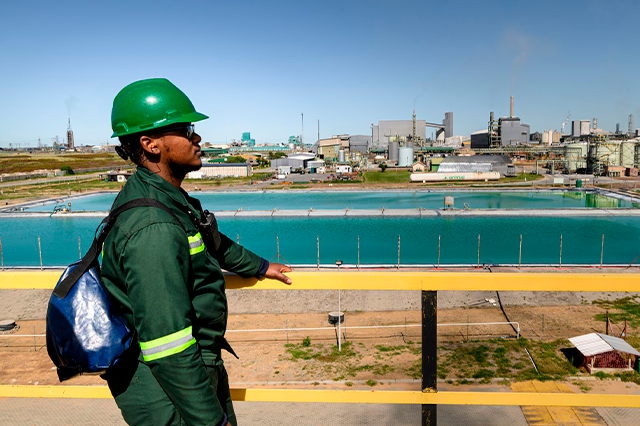 Protea Chemicals is a leading African manufacturer of polyelectrolyte polymers, with full NSF accreditation. Through the company's relationship with the world-renowned principals, it provides a comprehensive variety of polyacrylamide flocculants and defoamers. Its specialised, high-tech facility packages and distributes chlorine gas and efficient disinfection.
As a supplier of coagulants and disinfectants, like chlorine, which is used to treat water, Protea Chemicals' current clients include major South African municipalities and water boards, which can access a tailored solution that includes water testing, training and wastewater treatment.
In addition, the business is broadening its client base by expanding its service beyond municipal potable water and wastewater (effluent) treatment to mining and industrial water and wastewater treatment.
Powering a cleaner and greener future
As concerns around global emissions and climate change grow, the need for sustainable alternative energy sources has become more important. As a high-quality and innovative chemicals provider Protea Chemicals is pleased to be part of those efforts to produce cleaner and greener energy through its Hydro Energy™ fuel.
Hydrogen fuel-cell technology generates energy through a chemical process and offers a solution to help decarbonise the energy and transportation sectors around the world.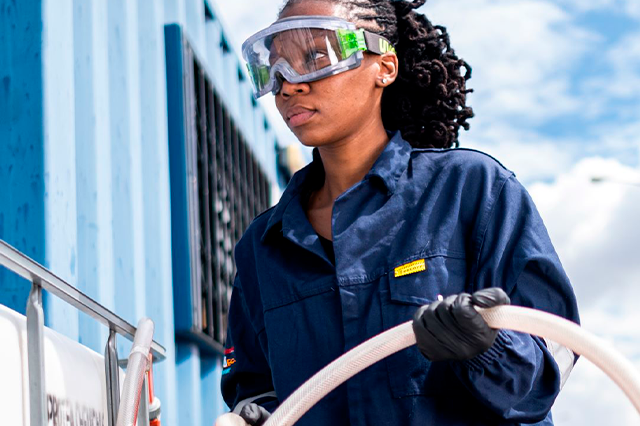 In partnership with various stakeholders, Protea Chemicals blends and supplies Hydro Energy™ fuel, which is used to power the seven hydrogen fuel-cell systems used at field hospital facilities at Pretoria's 1 Military Hospital, as part of the COVID-19 response efforts.
Through a further partnership with a local energy business, Protea Chemicals supplies its customer with Hydro Energy™ fuel needed for hydrogen fuel-cell systems. These hydrogen fuel cells are used to provide backup power to telecommunications towers and help keep South Africans connected during times of power outages.
Contact details
+27 (0)11 709 8888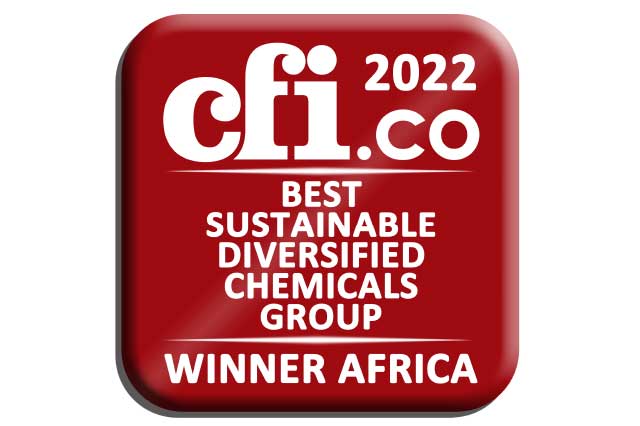 ∞